Danz for DAX
And for many high-flying SMEs
Over the past 15 years, several hundred companies have engaged Gerriet Danz as an expert and speaker, and have been inspired by him – many of them for multiple occasions. Whether in a hall, a ballroom, or a seminar room – the CONGA Award-winner and best-selling author ensures an interactive, motivating highlight for your event. Here's a listing of speaking references – a selection from A to Z.
"Everyone was delighted!"

"Your lecture really inspired me! Thank you!"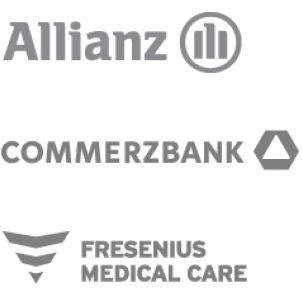 A
Axel Springer AG
Adobe Deutschland
AUDI AG
Allianz AG
Aareon AG
ATOSS Software AG
ARTE
ARD-ZDF-Medienakademie
Abbott Arzneimittel
Autobild
Arvato
asv Vertriebs GmbH
Antwerpes AG
atletico Werbeagentur
Atelier Türke
Andritz MAERZ GmbH
B
Beiersdorf AG
BMW
Blohm & Voss Shipyards
Bombardier Transportations
Robert Bosch
Bosch Sicherheitssysteme
Bertelsmann
BMZ The Innovation Group
BWGV Baden-Württembergischer
Genossenschaftsverband
BWagrar
BILD
Bild der Frau
Bild am Sonntag
Bongen, Renaud & Partner
Bartel, Brömmel, Struck Werbeagentur
Bausch + Lomb
BRIGITTE
BRP Renaud & Partner
Berlin Tourismus & Kongress
GmbH
Bauerfeind
BuK – Bund unabhängiger Küchenspezialisten
business & nature
C
CHANEL Deutschland
Columbia Tristar Pictures
Continentale Lebensversicherung
Continentale Krankenversicherung
Continentale Versicherungsverbund
CosmosDirekt
Commerzbank AG
CAMPUS Verlag
Condé Nast Verlag
Commerzbibliothek Hamburg
Computerbild
Computershare Deutschland
Cardioscan
CANCOM SE
Cheuvreux Deutschland
Commerz Derivates Funds Solutions S.A.
D
DELL Inc.
Deutsche Telekom AG
Deutschland Card
Deutsche Post AG
DOUGLAS
Dätwyler Schweiz AG
DEPOT
dpv services
Dreiklang Resort
Deutscher Marketing Verband
Dederichs Reinecke & Partner
Deepblue Networks AG
"I enjoyed your talk very much!"
"I thought your presentation was excellent and very refreshing. Thanks for the great ideas and points of view…"
"The feedback on your lecture was both outstanding on social media, as well as from those I discussed it with. We are looking forward to having you return for our next big projects…!"
"Isn't it nice to see during a presentation how the audience reacts, listens attentively, and waits for what happens next? The response and enthusiasm have shown it has paid off … Thank you!"
"I wish that many other people could have the opportunity to enjoy it!"
"Hot stuff!"
"What a refreshing lecture – thank you!"
"Thank you very much for the many inputs, approaches, ideas!"
"Your lecture was extremely exciting and right on the mark …"
"Thank you for the great event … everyone was very enthusiastic about your presentation. So thank you very much for taking time for us …"
"Fun, invigorating and creative! You sure can inspire your audience. Thank you very much – I'd gladly see it again!"
"Alive. Instructional. Funny. As a speaker, Gerriet Danz himself does things outside the box."
"I was particularly impressed by Gerriet Danz's speech."
"…from 130 participants, the event received a total rating of 1.8. You contributed significantly to this result with your lecture, which received a score of 1.32. Thanks a lot for this!"
"You have motivated and inspired us to a great extent through your many practical tips and techniques for doing things outside of the box! The first concepts have already been realized!"
"Additionally, you've inspired me to think consistently 'outside the box' and be brave. Simply classy!"
E
Europäisches Patentamt Den Haag
Evonik Industries AG
Exxon Mobil/ESSO AG
EMOTION
ELTERN
Edelmann Deutschland
e-faktor GmbH
EnBW AG
ESG Einkaufs- und Servicegesellschaft
F
Fink & Fuchs Public Relations AG
Freie Universität Berlin
FRESENIUS Medical Care
Financial Times Deutschland
Five Star Group
Fabrizio Razzini
Freizeit In Hotel
G
GENERALI Holding AG
Gaggenau
Gothaer AG
Grundeigentümer Versicherung
GSA German Speakers Association
GABAL Verlag
GEO Special
Gruner + Jahr AG & Co KG
Gründerfinanz
Geolino
GDF SUEZ Energie Deutschland AG
H
HP Hewlett-Packard
Hamburger Sparkasse
Heyne Verlag
HitRadio FFH
Hamburg@work
hmmh multimediahaus AG
Hettich
HAMELIN
HEYE Werbeagentur
I
IBM Deutschland
Immonet
IMPERIA AG
IMPULSE
insglück Werbeagentur
ICCOM International Gmbh
IDS Verwaltungsgesellschaft
K
KYOCERA Document Solutions
KabelBW
KÖTTER Services
kabel eins
Kaas Projektmanagement
KVG Kesselwagen Vermietgesellschaft mbH
kaufda
KODAK
KLAZEPT Coaching & Consulting
Kogag brand actication
L
Landestourismusverband Sachsen
Leo Burnett Werbeagentur
LIANTIS
Lexmark
London Speaker Bureau
M
MAN SE
McDonalds Deutschland Inc.
Microsoft Germany
Manager Lounge
MANN+HUMMEL
MEWA AG
MAXDOME
Media Network
MACON
Medtronic
Monoki Die Markenagentur
MÖLK Pressegrosso
Marc O' Polo
Mondi Consumer Packaging Technologies
Marketing Club Siegen
Müller & Friends
MSD Sharp & Dohme
Moeller Automation
N
Nestlé Deutschland AG
NEC Display Solutions
Norisbank
NDR Norddeutscher Rundfunk
Neue Monarchie Werbeagentur
NJOY Radio
Novomind AG
Novartis Pharma
newtron AG
O
OTTO Group
OLYMPUS Europe
Onlife Academy
Orifarm GmbH
P
PHILIPS Healthcare
Pro7Sat1 AG
Promos Consult
Pixelpark AG
Procter & Gamble Germany
Pink University
Profilwerkstatt
Premium Speakers Deutschland
PC-Ware
Powerwerk
R
Rohde & Schwarz
Roto Frank AG
Randomhouse
Radio Regenbogen
RAPP/Collins Deutschland
RADIO/TELE FFH
S
SCHOTT AG
SONY Television
SAP SE
Spiegel TV
Steelcase AG
Steinbeis Universität Berlin
Studio Hamburg
SIEMENS Healthcare
Speakers Excellence
Sophie 19
SCHÖN Klinik Starnberg
SICK AG
Stiftung Museum Kunstpalast
Santa Fe Natural Tobacco Company
Semigator GmbH
Saaten Union
Shop Strategen
Sika Deutschland
STARS Incentives and more
Sapient Ltd.
Schneider Electric
SVIT Schweizerischer Immobilienverband
Schuler Konstruktionen
SEA Group
Speakers Academy Germany
Scherer Werbung GmbH
Schlieter & friends
Steiermärkische Bank und Sparkassen AG
Synsapse Kommunikation
Springer Gabler
SFG Graz
Sprecherhaus
T
TCHIBO
Tchibo Coffee Service
TOBIT Software AG
Toll Collect
telering Marketing GmbH
TMG Tele München Gruppe
ThyssenKrupp
Trusted Shops
Think in Pictures
Twighlight Events
THE LITTLE BIG THINGS
Tempomedia Filmproduktion
U
Universität Hamburg
Universität Göttingen
UFA Entertainment
Unternehmen Erfolg
UNIPLAN
V
Volksfürsorge AG
VDI Verein deutscher Ingenieure
VOX Television
Vivadynamic GmbH
visitBerlin
VDMA verband deutscher maschinen-
und anlagenbau e.v
VSF&P Werbeagentur
Vogelsänger Film
Videojet Technologies Inc.
Verband Garten-, Landschafts- und
Sportplatzbau Bayern e. V.
W
WELLA AG
Woman Speaker Foundation
WOMAN
wige Event
WSA Office Project Schweiz
Z
ZMG Zeitungsmarketing Gesellschaft
Zum goldenen Hirsch Werbeagentur